I graduated on Saturday, along with my friends from the Creative arts at San Francisco State University with a degree in Cinema; emphasis in Animation. I took this photo of Lisa, myself, and Dan) with a fish eye camera. It was a beautiful ceremony with Kamala Harris as our inspiring speaker. I had such a wonderful time.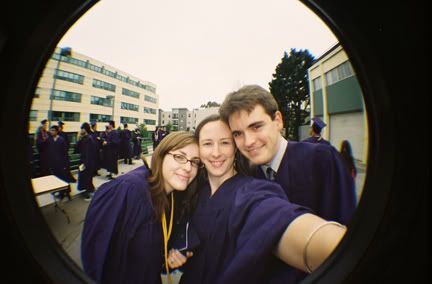 Of course now that means I'm looking for a job that I will enjoy and grow in. So if you hear of a position that involves anything creative, let me know! I've been applying to animation internships, and receptionist positions that are in the film industry ( I hope to work my way up to be a Producer).
Speaking of creativity, I'm hoping to open my very own etsy shop soon so here is my first batch of thank you notes for graduation. I'm using these as an opportunity to make some cute cards that might sell and make a little moolah.